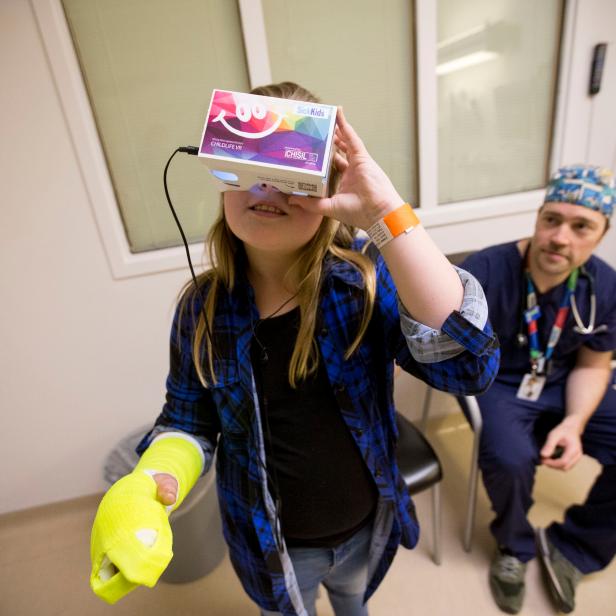 655635406
TORONTO, ON - FEBRUARY 14 - Tess Baird uses the VR headset while Dr. Ben O'Sullivan looks on. Virtual Reality isn't just for gamers. A new project between SickKids and Sunnybrook uses VR headsets to ease pre-surgery anxiety. Patients watch immersive video of the surgery process: wheeled down the hallway, getting anaesthesia, waking up. Pre-surgery anxiety has affects that spill over even after surgery. (Carlos Osorio/Toronto Star via Getty Images)
Gaming and VR Unleash Wave of Digital Therapies for Improved Health
People suffering from life-changing physical conditions, like losing a limb or paralysis caused by a stroke, often have a long, slow journey to regain function. But advances in digital therapies, using games and virtual reality, can make rehabilitation easier and are encouraging patients to make faster progress.
Amputees can suffer from severe phantom limb pain as well as coordination problems caused by losing an arm or leg. To address this, neurotechnology company MindMaze created a virtual reality experience that fools the patient's brain into thinking their severed limb is still attached, helping them to manage the pain.
The company also develops games using body motion capture cameras and movement sensors to rehabilitate patients and restore movement. Thousands have received MindMaze gaming therapy in clinics around the world. And crucially, VR and games are an injection of fun into what could be an uncomfortable, difficult and tiring process.
Stroke patients struggling to recover movement, fine motor skills, and cognitive function can work their way back to fitness with the help of an animated dolphin character in 'MindPod'. The game uses an anti-gravity vest that lifts the arm and makes it easier to control the dolphin in its undersea environment, or even do backflips out of the water.
Games like MindPod are also being used to address degenerative brain conditions such as Alzheimer's or Parkinson's disease, and dementia. The US Department of Defence has funded a trial to see how it can prevent dementia for war veterans with traumatic brain injury.
Serious physical and neurological disorders mean that therapeutic games need to be built on solid foundations. University of California San Francisco (UCSF) video game research showed that games could be used to help older people improve their cognitive control and multitasking skills.
NeuroRacer was a simple 3D racing game developed at the university that showed how, in just hours, games training could reverse certain negative effects of aging, and might also help with disorders like ADHD and depression.
Now it seems the coronavirus pandemic has accelerated the uptake of gaming therapies. Remote treatments make more sense when there is already reduced contact with doctors. In June 2020, the US Food and Drug Administration approved its first game-based therapeutic device for children with ADHD, the EndeavorRx, based on the UCSF's groundbreaking research.
Boston Children's Hospital certainly takes the digital therapy trend seriously. Clinicians worked with the Harvard Medical School to create the gaming company Mightier and road test its strategies. The result was gaming technology that showed kids how to handle stressful situations and change their behavior.

The hospital now uses gaming in family therapy and mental health sessions, showing doctors' commitment to digital therapies. And the games industry is happy to follow suit to make gaming for wellness another option for inpatient treatment.